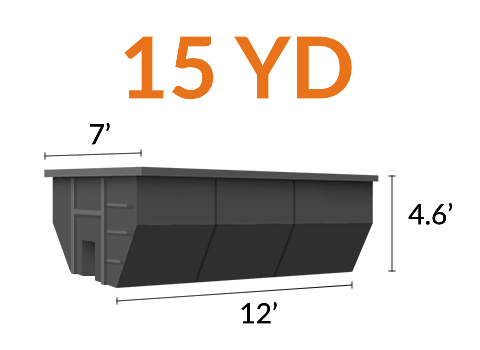 Days: Up to 7 Days
Rent Time Extension: $25/Per Additional Day
Ton(s): 1 Included
Extra Weight: $150 Per Additional Ton
Description
The 15 cubic yard dumpster is our medium size dumpster, perfect for the medium size projects around the house or medium contractor projects. This dumpster rental would be perfect for a garage clean up, attic clean, shed clean up, yard clean up, bathroom renovation or any other medium size project around the house, the capacity of our dumpster is about 6 pick up loads.
The price to rent our 15 yard dumpster is $365, the rental is for a 7 day period (delivery day counts as first day), and it also includes 1 ton of material which is the same as 2000 pounds. If you need to keep the dumpster for a longer period of 7 days, it's just $25 additional per day starting on the 8th day. If you go over the ton included on the price, you would only be charge for the over weight at $150 per ton (if you go over half or a quarter of a ton we will only charge you for the half or quarter over weight)

$365 1-7 Day Rental - 1 Tons of Material
$25 Per Additional Day
$150 Per Additional Ton
Dimensions:

- 12' long
- 8' wide
- 4.6' tall

Materials We Don't Accept:
There're some materials we can't accept since the transfer stations where we dump don't accept them, this materials are paint cans, all types of oils, tires, pesticides, bassically anything that can harm the environment since all the gabage ends up in land fills. The other type of material we don't accept because are too heavy for our system are concrete, sand, dirt, gravel, asphalt, roofing, etc.
If you are looking for a smaller product, please see our 12 Yard Dumpster. If you are looking for a larger product, please see our 20 Yard Dumpster. Long Island Dumpster Rentals Inc. has a rental for any size project but we do not allow concrete, dirt, tires, or hazardous material in our dumpsters.